We are proud of the companies who place their trust in us.
Nautilus Integrated Solutions (NIS) is able to successfully meet the needs of the most demanding customers in the world, including the U.S. Military, the U.S. Navy Nuclear Submarine program, and numerous demanding (and satisfied) commercial clients. For over 50 years, we've been crafting components that simply cannot fail. Our total of 119,000 square feet of facilities and 180 employees are located on the East coast — giving easy access to shipbuilders in the region.
Our nuclear-powered portfolio
We deliver essential components to the U.S Navy's Virginia and Columbia class nuclear submarines, as well as the Navy's Ford class aircraft carriers.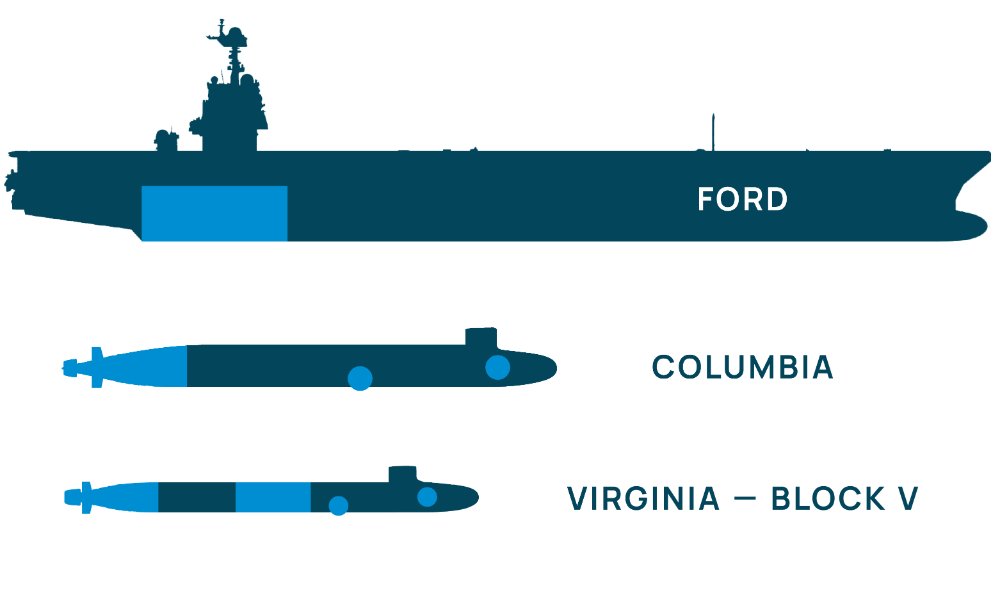 Large assemblies
Main Propulsion Unit (MPU) components
Ship Service Turbine Generator (SSTG) components
Retractable Bow Plane components
Hinge assemblies
Hydraulic accumulators
Small assemblies & parts
Weapons handling
Mounts and hangers
Rammers
Manifolds
Various pumps and valves
Our promise
Nautilus Integrated Solutions strives to be a preferred supplier to the United States Navy's Nuclear and Submarine fleets. We do this with our unrelenting commitment to precision, underscored by the full understanding that our casting and machining components have no room for failure. We fully understand that lives depend on the performance of the components and assemblies we produce.
We are a single point of contact and vertically integrated from design to delivery — from shop to ship.
We are committed to quality, on-time delivery, and excellent customer service.
We stand ready to serve you and our country.
Our leadership team
Our management team has deep experience interacting with Department of Defense programs. This experience allows us to seamlessly integrate with prime contractors and has resulted in long-standing partnerships with some of the United States' best-known companies.
We look forward to working together.
We'd love to start a conversation about how we can deliver the mission critical components and assemblies you need. Simply request a quote and we'll get back to you.